We host visiting artists from around the country and around the world. Over the years, we've has helped to bring dozens of artists and teachers to Boulder, enriching students' musical and cultural experience, as well as enriching the Boulder community through performances and cultural talks. Our directors hosted the 2009 international music festival 'ZimFest' on CU's campus and in the heart of downtown Boulder, and a mini 2021 'Zimfest Colorado' at the Steinbaugh Pavillion in Louisville.
Current Artist
2023 Winter – Julia Tsitsi Chigamba
dance, drumming, hosho, singing
March 3-16, 2023
Julia Tsitsi Chigamba grew up in the rich cultural traditions of Shona music and dance. Daughter of the highly respected gwenyambira, Sekuru Chigamba, she is a longtime member of Mhembero, the Chigamba family dance and mbira ensemble. Julia came to the United States in 1999. Two years later, in Oakland, California, she established the organization Tawanda muChinyakare and the music and dance company Chinyakare to share the beauty and wisdom of her culture in the United States. She has performed for Summer Sounds, music and art for kids, at the Hollywood Bowl in Los Angeles. Julia currently teaches dance, music, and culture in Oakland schools and in her community. www.chinyakare.com
---
Upcoming Artists
2023 Spring – Tafadzwa 'Taffie' Matiure
mbira nyunga nyunga, mbira nhare, marimba, hosho, singing, dance
April-June 2023
Taffie grew to love music through the influence and mentorship of his late father, Dr. Sheasby Matiure. He has degrees in Music Business, Musicology, and Technology from Midlands State University in Zimbabwe, and is an up-and-coming performer in the Zimbabwean music scene.
Taffie starts his advanced music degree in the UK next year, but before he does we'll get to enjoy an extended stay with him at Kutandara.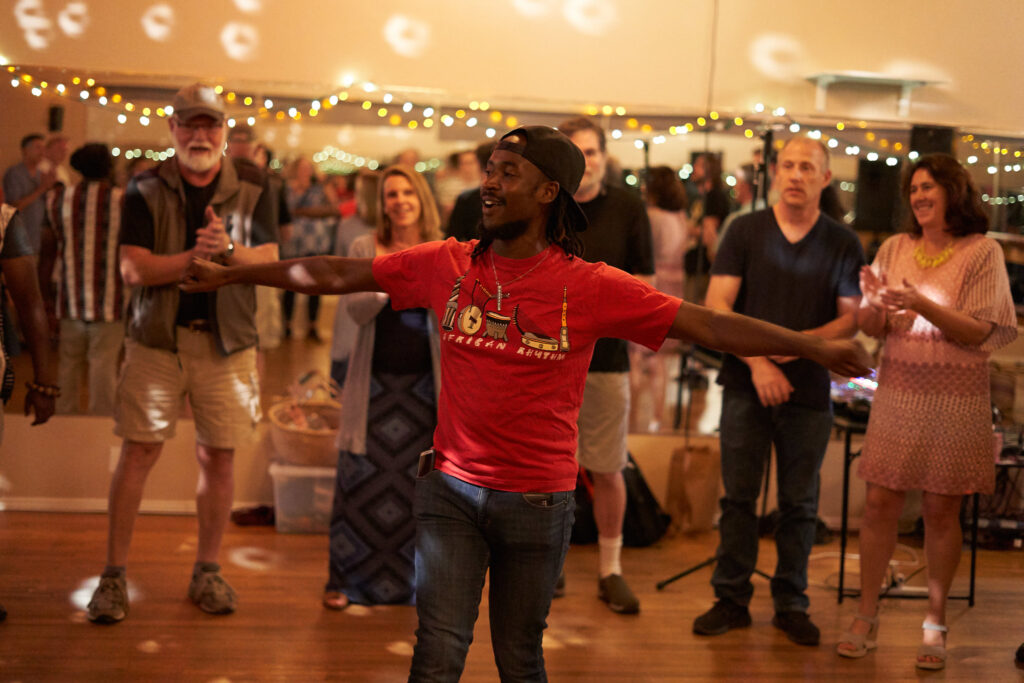 .
---
Past Artists
Chris Berry
marimba, mbira, drumming, singing, dance, hosho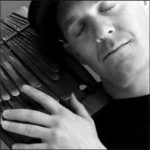 Originally from California, Chris is "one of the living masters of African drumming." Chris has roots in both hand percussion and the Shona mbira. He is a fluent Shona speaker and gwenyambira ("one whose music calls the spirits"), a distinction reserved only for those who have achieved the highest fusion of the technical and the magical in Shona music. Chris was Artistic Director Randy McIntosh's first teacher and encouraged much of his initial musical creativity on the marimba. www.chrisberrymusic.org
Bongo Love/Bongo Boys
marimba, dance, hosho, mbira, singing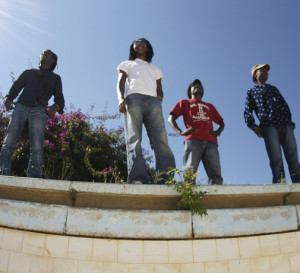 When in 2001 four extremely talented young men decided to follow their hearts and enter into the music world, no one would give them a chance. Determined despite the lack of support, the four spent their days collaborating to come up with a distinct sound that would add a tasty new flavor to the world of music. They have beautifully fused styles from all over the world with the music they grew up with, pouring their souls into every note and touching the hearts of people from every generation. Bongo Love was formed in Bulawayo, Zimbabwe by John Mambira, who still heads up the band. www.bongolovemuzik.com
Jeff Brahe
marimba, mbira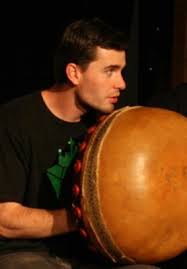 Jeff began playing Shona music at age 10. Since 1997, he has studied with over a dozen teachers from Zimbabwe and the US. Jeff serves as the director of Santa Fe's Andé Marimba Band, and has performed with them on mbira and marimba since 2000. He also currently plays with Anzanga Marimba Ensemble in Seattle, under the direction of Sheree Seretse. In addition to playing Zimbabwean music, Jeff is an accomplished classical musician and composer, holding a degree in music composition from the University of Puget Sound, where he also studied conducting, piano, and bass clarinet. Jeff's goal is to foster a deeper appreciation among his students for the ancient traditional music of Zimbabwe, while staying on the cutting edge of musical innovation and cross-cultural exchange.
Julia Tsitsi Chigamba
dance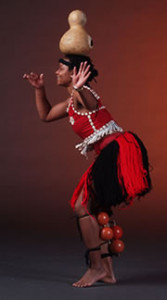 Julia Tsitsi Chigamba grew up in the rich cultural traditions of Shona music and dance. Daughter of the highly respected gwenyambira, Sekuru Chigamba, she is a longtime member of Mhembero, the Chigamba family dance and mbira ensemble. Julia came to the United States in 1999. Two years later, in Oakland, California, she established the organization Tawanda muChinyakare and the music and dance company Chinyakare to share the beauty and wisdom of her culture in the United States. She has performed for Summer Sounds, music and art for kids, at the Hollywood Bowl in Los Angeles. Julia currently teaches dance, music, and culture in Oakland schools and in her community. www.chinyakare.com
Blessing 'Coach Bled' Chimanga
marimba, percussion, singing
October 5 – November 21, 2022
Blessing is a charismatic performer and teacher, with his contagious energy and laughter motivating students and audiences alike. He is the CEO of Dreams Trust, a not-for-profit organization using music to ignite people's largest visions of their lives in music. He works in Zimbabwe with Watershed College and WINAD Music Trust, and internationally with groups in Italy, Sweden, and the US. Blessing also serves on the Kutandara Board of Directors.
Musekiwa Chingodza
mbira, singing, hosho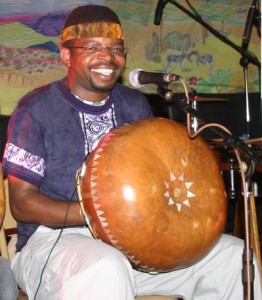 Musekiwa Chingodza was born into a family of great mbira players in Mwangara village, Murewa, Zimbabwe, in 1970. He began playing mbira at the age of five and is self-taught. Through listening to other gwenyambira, or great mbira players, he developed a strong attachment to and love for mbira music. He has recorded solo albums and also in collaboration with Chris Berry, Jennifer Kyker, Bud Cohen, Sumi Madzitateguru and Tute and Irene Chigamba. He formerly taught mbira at Prince Edward School in Harare and continues to be in demand to play mbira at ceremonies in Zimbabwe. Since 1999, he has been a regular visitor to the US, sponsored biennially by Kutsinhira Cultural Arts Center in Eugene, Oregon, and has recently extended his musical touring to include Japan and France. He says, "Our music is both medicine and food, as mbira has the power to heal and to provide for people. Mbira pleases both the living and the dead."
Rujeko Dumbutshena
dance, singing, hosho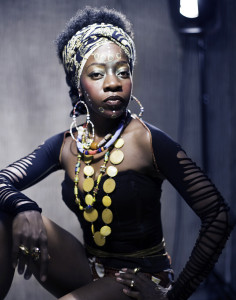 Born and raised in Zimbabwe, Rujeko's early life was profoundly influenced by African musicians, healers, and Shona tradition. She left Africa to continue her education in America. As a Zimbabwean artist living in America, Rujeko Dumbutshena bridges diversely different cultures. She has been a part of innovative works, taught workshops, and directed conferences to bring together students and audiences as witnesses and participants in the profundity of African art today. Currently Rujeko teaches African dance and tours nationally and internationally.
Ambuya Beauler Dyoko
mbira, singing, hosho


Ambuya Dyoko was one of the best-known female mbira players and singers in Zimbabwe. She performed with Mhuri yekwa Rwizi/Soul of Mbira groups and her own band for many years in Zimbabwe and throughout the world. She and her 10-member band made several recordings. Ambuya Dyoko was also a spirit medium, an herbalist, fashion designer, and teacher of traditional Shona cooking. She was an active member of organizations promoting women musicians in Zimbabwe, and has written original songs in support of AIDS awareness and non-violence. She visited Boulder many times and always brought a profound and deep understanding of Shona music and culture. Ambuya Dyoko passed away in 2013.
Sekuru David Gweshe
marimba, mbira, singing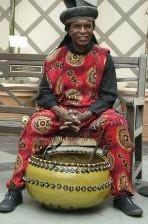 Sekuru Gweshe was a true pioneer of Zimbabwean music, constantly expanding the boundaries of traditional Shona music. Whether playing mbira at a bira ceremony or leading a group playing electric guitars, marimba, accordion or steel drum — the wisdom of his spirituality comes through. Born in 1940, Sekuru Gweshe comes from the Budya people, a subgroup of the Kore Kore. He is a descendant of Nehoreka, the first of the Budya people and the founder of the Shumba totem originating in Tanganyika (Tanzania). He began playing njari at age 14 and, over time, added keys to the njari in order to "play all the parts" of the music that he heard in his head. 
Simbarashe Kamuriwo
marimba, singing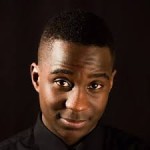 Simbarashe (Simba) Kamuriwo has a Master's degree in Choral Conducting from the Greatbatch School of Music at Houghton College in New York. He is currently pursuing a Ph.D. in Ethnomusicology at Wesleyan University. He has served as the instructor of Simba Marimba, an African Marimba Ensemble at the Eastman School of Music. He has been a member of the American Choral Directors Association, has earned the opportunity to participate in conducting competitions at the undergraduate level, and won many marimba competitions at the high school level.
Abel Mafuleni
marimba, mbira, dancing, singing, drumming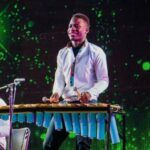 In his short teaching and performing career, Abel has distinguished himself by creating deeply textured arrangements for marimba and mbira which range from Afro-Jazz to Zimbabwean sungura, jiti, and the traditional mbira repertoire.
Jacob Mafuleni
marimba, drumming, mbira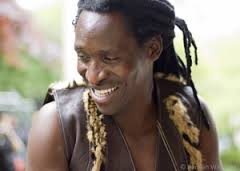 Jacob is a multitalented gwenyambira who is as equally adept at the ngoma as he is at the mbira. He is a highly sought-after musician in Zimbabwe, having regularly performed with renowned musician Chiwoniso Maraire & Vibe Culture.
Sekuru Cosmas Magaya
mbira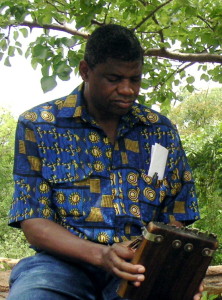 Sekuru Magaya was an internationally renowned Zimbabwean mbira player, teacher and cultural ambassador. Raised in the rural areas of Mhondoro, Sekuru Magaya played an integral role in the research of musicologist Paul Berliner's award-winning book The Soul of Mbira (1978), and also performed mbira on the accompanying audio recordings released by Nonesuch Records. Sekuru Magaya performed internationally in Europe and the US with Mhuri Yekwa Rwizi, and the Zimbabwe Group Leaders Mbira Ensemble, including members Hakurotwi Mude, Beauler Dyoko, Chaka Chawasarira, Simon Magaya and Paul Berliner. Sekura Magaya passed away in July 2020 from COVID-19.
Farai Makombe
songs, games, shona language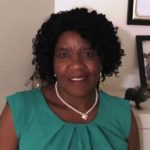 Growing up in rural Zimbabwe, one of Farai's major pastime activities were songs and games with other children in the village. In her songs and games classes, her passion for teaching, love for children, and nostalgia for her childhood provide children with a wonderful songs and games experience. Having studied the Shona language extensively, and also being a native speaker, Farai also provides much of the Shona language assistance at Kutandara Center through language lessons, song lyric assistance, and pronunciation guidance. Farai received her M.Ed. in Education and Human Resources in 2000 and her Ph.D. in 2006, both from Colorado State University.
Zivanai Masango
guitar, marimba, singing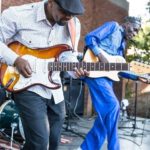 Zivanai has carved a place for himself in the hearts and minds of audiences and musicians alike with his sweet, sincerely heartfelt style of guitar playing. Zivanai has played on many of the world's most revered concert stages with such diverse world class artists as Oliver Mtukudzi, The String Cheese Incident, Bushman, Playing For Change, The Motet, Giovanni Hidalgo and many more.
Paul Mataruse
marimba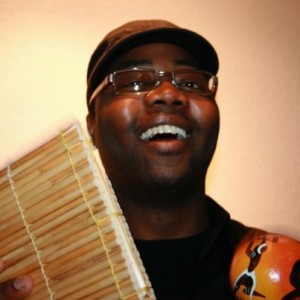 Paul is originally from Bikita, in the southeastern province of Masvingo. Paul has been playing marimba since he was a young boy and is known for his complexly beautiful compositions and arrangements. He has taught in schools in and around the Mashonaland West Province of Zimbabwe as well as in primary schools in Harare. Currently he is living, working, and playing marimba in the Seattle area with his band Ruvizo.
Sekuru Sheasby Matiure
marimba, singing, mbira nyunga nyunga, ngoma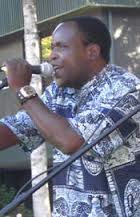 Sekuru Matiure was a highly respected Zimbabwean musician, adept at playing mbira, ngoma, hosho and marimba, and at teaching choral singing. He travelled far and wide, conducting workshops and lecture demonstrations in Sweden, Norway, Australia, the United States, and many African countries. From 1997 to 1999, Sekuru Matiure was an artist in residence with the International Vocal Ensemble at Indiana University. He completed his PhD in Ethnomusicology at Indiana University and taught at the University of Zimbabwe for many years. He spent a great deal of time enriching our Boulder community. Sheasby passed away in 2016.
Tafadzwa Matiure
marimba, mbira, dancing, singing, drumming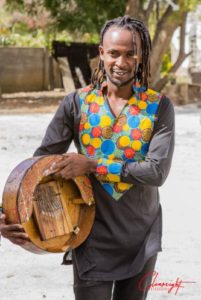 Born on January 8, 1995, "Taffie" grew to love music through the influence and mentorship of his late father, Dr. Sheasby Matiure. He is currently studying Music Business, Musicology and Technology in Zimbabwe, and is the bandleader of Footprints with students from the Midlands State University, performing in and around Gweru, Zimbabwe.
Maputo Mensah
drumming, dance, singing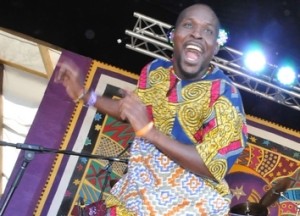 A principal member of Akrowa Cultural Performance Ensemble at the Academy of African Music and Arts in Accra, Ghana, Maputo has trained with world-renowned master drummers Moustapha Teddy Addy and Obo Addy. He has toured internationally with the Royal Ga Troupe, Obonu on Peter Gabriel's WOMAD Festival and has collaborated with Pharaoh Sanders. Maputo directs Logo Ligi, which consists of musicians and dancers who have studied Ghanaian music for many years. The troupe is dedicated to celebrating and teaching the style and spirit of traditional Ghanaian performance art. www.logoligi.com
Kurai Blessing Mubaiwa
marimba, mbira, singing, drumming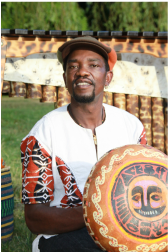 Kurai Blessing Mubaiwa was born in 1976 in the village of Mutimbanyoka, in the Murewa district, Zimbabwe. With an exceptional interest he began playing mbira at the age of six. This keen learner watched while his father, uncles, and other village elders played mbira in traditional ceremonies. Soon he began his journey as a young child singing, dancing, playing mbira and drums in traditional ceremonies and other village gatherings. In 1994 Kurai moved to Harare where he joined the cultural group Savannah Arts where he learned to play marimba and trained as an actor. Here he facilitated and coordinated the Streets Ahead Programme which focused on teaching street youth to play marimba. In 1998 Kurai toured West Africa and Europe with Chiwoniso Maraire and opened for Cesaria Evora. Kurai began his Canadian musical journey in 2002 when he immigrated to Vancouver. After receiving his Canadian citizenship, Kurai was able to go back on the road, traveling across Europe with Chiwoniso Maraire, performing in various world music festivals including WOMAD as well as participating in Zimfest. Currently, he teaches in Canada's Britannia World Music Program, teaching youth marimba classes. Kurai conducts mbira and drumming workshops and performs as the lead musician with the group ZimbaMoto. www.kuraimubaiwa.weebly.com
Tendai Muparutsa
marimba, dance, hosho, mbira, singing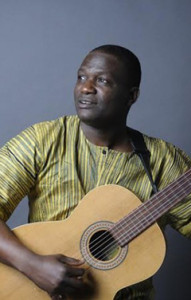 Tendai Muparutsa was born in Mutare, Zimbabwe. He attended the Zimbabwe College of Music, where he was taught by Dumisani Maraire, Sheasby Matiure, Claire Jones, Mitchel Strampf, and several others. Tendai describes himself as more of an ethnomusicologist than just a music educator. He completed his undergraduate studies at the University of Zimbabwe and received his doctoral degree in Music Education at the University of Alberta in Alberta, Canada. Before Tendai left Zimbabwe he was a Teaching Assistant at Midlands State University, where he led their marimba and dance sections. He is currently a professor at Williams College.
Patience Munjeri
mbira, singing, hosho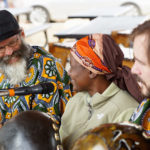 Patience is one of Zimbabwe's rare women mbira players, has played in traditional ceremonies since she was very young. Because her mother is a traditional healer and medium and her brothers also played mbira for the spirits, Patience grew up immersed in mbira music and deep Shona culture. Patience holds a BA in Divinity, with a specialty in Comparative Religions, from Africa University in Zimbabwe, and communicates very well in English.
Tonderai Ndava (Tonde II)
mbira, dance, hosho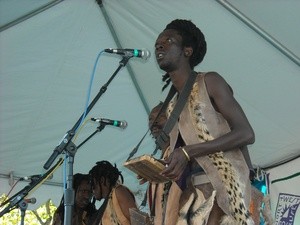 Tonde II is a young gwenyambira, but is routinely summoned to play at traditional spiritual ceremonies in his village. He plays the Hweva (rhythm) mbira and often fills in on the Nheketo in performances. His mbira style is highly improvisational and yet deeply spiritual at the same time. Eyes closed for most of his performances, pacing back and forth as if playing a little game with the audience, he is entertaining to watch when he gets into a groove, as he starts to wildly shake his dreadlocks in sync with what he is playing.
Tonderai Phiri (Tonde I)
dance, hosho, singing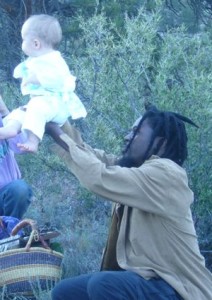 Tonde I was an amazing dancer, hosho player, mbira player and drummer. This gave him the unique role of dancer, body percussionist, hosho player and court jester for his band Mawungira Enharira. The group's performances would not have been the same without this energetic musician to stir the audience into a frenzy. His hosho improvisation would send shivers down one's spine, with strong pulses and fluid swooshes that other experienced hosho players still envy. Tonde I was often seen interacting and engaging with the audiences, doing blessings with his hosho or dancing stick, as well as joining audience members in an impromptu dance sequence that almost always leaves one wanting more. Tonde I passed away in 2008.
Peter Swing
marimba, mbira, singing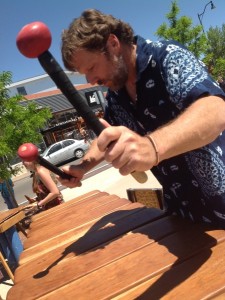 Peter has taught marimba since 1994. He has studied with Dumisani Maraire, Mai Chi, Ephat Mujuru and Chris Berry. Peter played in Boka Marimba, JAKA, Trillium and directed the youth ensemble Tatenda for many years. He also taught at Camp Tumbuka for several years. He's given the Boulder community many gifts of songs, including Skokiaana and Chiro Chacho.
Martha Thom
dance, drumming, songs, games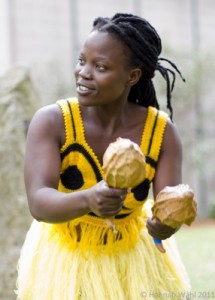 Martha is a well-respected dancer and musician in her home country of Zimbabwe, rivaling many of the Zimbabwean dancers and musicians staying here in the US. Martha has traveled extensively around Europe with professional touring acts and has visited the US several times with her husband, Jacob Mafuleni.
Fara Tolno
dumming, dance, singing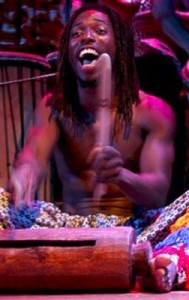 Born in Conakry, Guinea, West Africa, Fara Tolno spent most of his youth growing up in Kissidougou and Conakry. Playing djembe since the age of 9, he has traveled extensively teaching both drumming and dance. He spent 9 years as the lead drummer for the Merveailles (the younger ensemble akin to Le Ballet African) under the tutelage of Kemoko Sano. Fara was one of the accompanying drummers when Mamady Keita was in Arizona a few years ago. Fara has a wonderful way of teaching the expert concepts and techniques of the djembe to western players of all levels, and his energetic style makes his drum and dance classes very fun! www.kissidugu.org
WINAD Marimba Band + Choir
marimba + singing performance
The WINAD Marimba Band + Choir is led by music teachers Addmore Chokera, Winnie Chitongo-Chokera, and Blessing Chimanga. This group of young people from Zimbabwe traveled to Colorado in late July of 2019
---
See current artist's full schedule here.
---