Arts & Entertainment Pacesetters: Randy McIntosh and Amy Stewart McIntosh
By Elleni Theodora Cladis for the Boulder Daily Camera
February 13, 2011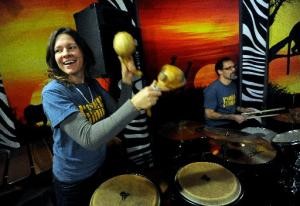 Presented since 1985, the prestigious Pacesetter Awards recognize people who have made significant contributions in the areas of arts & entertainment, business, community service, education, health and medicine, the environment and quality of life.
The Arts & Entertainment Award recognizes those who have given their talents to the community and have, in the process, strengthened access to, interest in and/or support for the arts. Learn more…
Kutandara. Translated, this Zimbabwean word means, "to come together and have a good time." It was, Randy and Amy Stewart McIntosh decided, the perfect name for their Zimbabwean music center.
The McIntoshes were called to the music in different ways. Randy graduated from the University of Colorado with a music degree and, drawn to world music, he focused on teaching Zimbabwean music. Amy was invited to go to a Zimbabwean concert one day and was so moved that she knew her life never would be the same. Their paths later crossed when they played in the same marimba band and they decided to start the Kutandara Center in 1999. Read the full article…
7th Annual Independent Music Award Live Album Finalist: Kutandara

Presented since 2001, the Independent Music Awards (IMAs) is an international program that honors top-ranked independent (indie) artists and releases in more than 80 Album, Song, EP, Producer, Music Video and Design categories.
The IMAs were created in 1999 by Music Resource Group (MRG). The program receives submissions from previous major-label artists as well as self-released and indie label talent from more than 94 countries on 6 continents. Submissions are evaluated on the basis of artistic merit, including (but not limited to) originality, melody, vocal performance, musicianship, composition, and production. A panel of influential artists & industry veterans determine the nominees and judge-determined winners.
In 2008, Kutandara was a finalist in the Live Performance Album category.