SAVE THE DATE! Please join us on Sunday, November 12, 2023, for Moon & Stars' annual fundraising concert 'Under One Sky.' Doors will open at 6 pm for a 7 pm show at Nissi's in Lafayette. Tickets will be available starting October 1.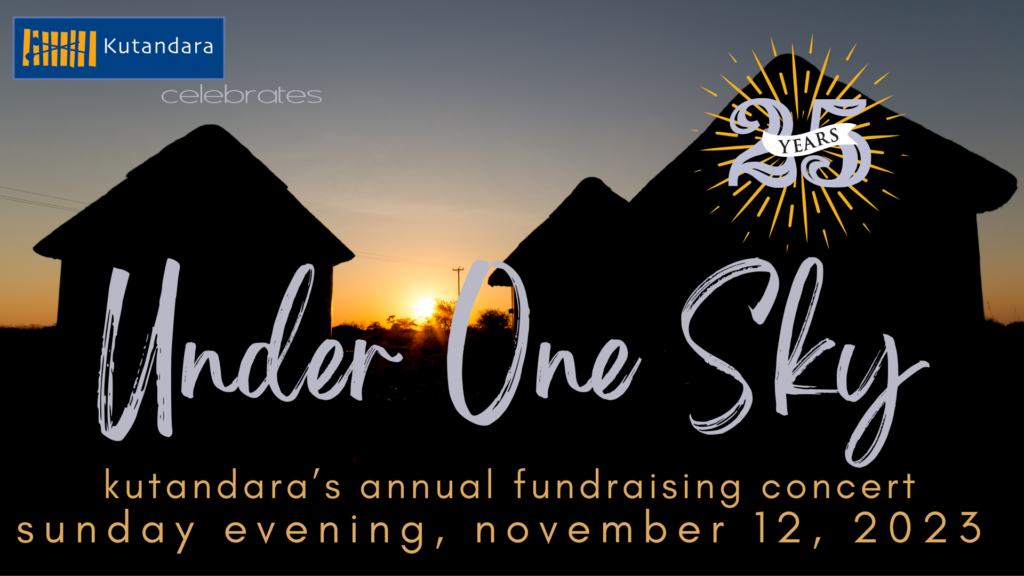 Under One Sky: Kutandara's Annual Fundraising Concert
Sunday, November 12, 2023
6 pm doors | 7 pm concert
Kutandara's biggest show of the year is back at Nissi's and this time we're celebrating our 25th anniversary in style. Under One Sky promises a spectacular celebration of Zimbabwean music with special guest artists alongside Kutandara's performance bands. You won't want to miss this incredible line-up of performers and celebration of some of the most beloved pieces from Kutandara's last 25 years of performances.
Come feel the joy of Zimbabwean music and join us on Sunday, November 12 for this critical fundraiser to support Kutandara's local and international work. Help us to continue to heal the world through music.
$30 Reserved & GA
$15 Reserved & GA Students
$100 for a 4 top table with Coupon Code: 4SEATS
Tickets available October 1
Full menu available for order

---
Previous Concerts
Wednesday, May 17 from 6-9 pm
2023 Spring Concert: Dream with the Stars
with Kunaka, Kutandara, and Takapenga
feat. Taffie Matiure
Roots Music Project in Boulder
Look up into the nighttime sky, and the stars have a magical and inspiring presence. Stars can represent hope, destiny, heaven, and freedom. They can be something to reach for, something to admire, or something to regard with awe. Stars make us believe that wishes can come true…so why not dream together about the future?
In this third and final concert of our '22-'23 series, Dream with the Stars lifts us up as the shining beacons that we each are. As we dream together of a better future, we admire and acknowledge the good in the present, while we celebrate and honor our roots – especially those who came before us on whose shoulders we stand.
In our continuing concert series that pays tribute to Zimbabwean musical legends, Dream with the Stars continues to explore community, connection, family, and how we can all come together to support one another.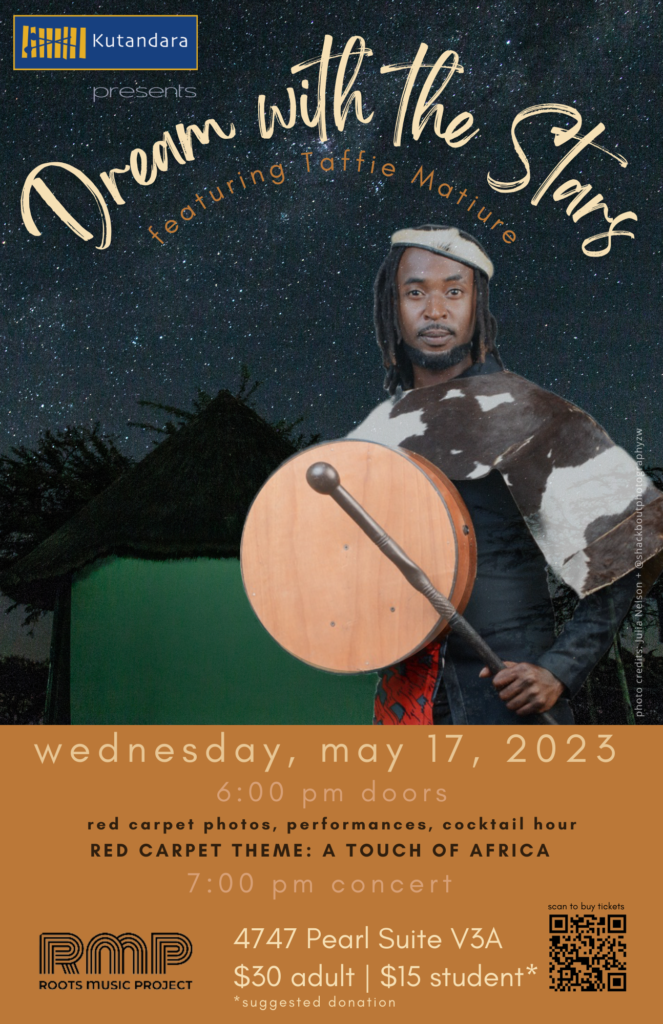 ---
March 15 from 7-9 pm
2023 Winter Concert: Dance with the Moon
with Kunaka, Kutandara, and Takapenga
feat. Julia Chigamba
with special surprise guests Taffie Matiure, John Mambira, and Chipo Muchineripi
eTown in Boulder
Our 2023 Winter concert, Dance with the Moon, was a celebration of Zimbabwean music and dance at Boulder's eTown Hall…a world-class live music venue! Tickets to Dance with the Moon SOLD OUT two weeks before the show.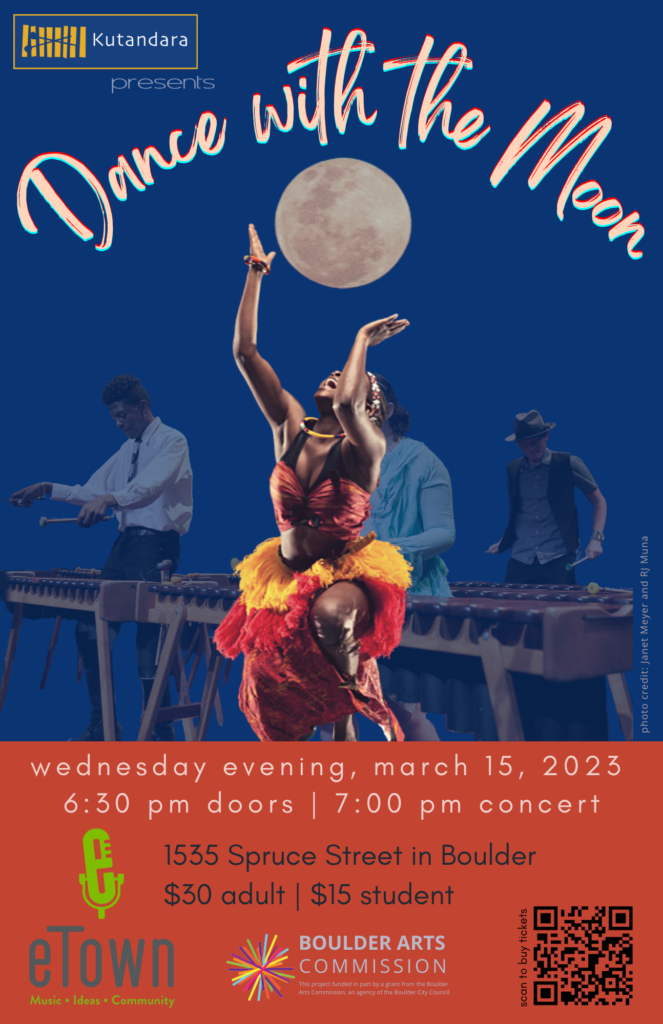 ---
November 14 from 7-9 pm
2022 Fall Concert: Under One Sky
with Kunaka, Kutandara, and Takapenga
feat. Zivanai Masango, Helen Masango, and Chipo Muchineripi
with special surprise guest Blessing Chimanga
Nissi's in Lafayette
The Cause
Bringing cultures together is what Kutandara is all about. Kutandara helps bring a piece of Zimbabwe to the US, expands the world of music for all of us, and honors the place where the music comes from by supporting and developing the next generation of Zimbabwean artists.
Each year donations to Kutandara's Moon and Stars Foundation 501(c)3 help continue our local and international work. In the last year, Kutandara has:
Provided 8 scholarships for marimba classes and its teen performance program, expanding access to music across the Front Range;
Provided new marimbas and mallets, musical instruction, and financial support to Child Future Africa in Mt. Darwin and Tsoro Arts in Dzivaresekwa, both in Zimbabwe;
Produced a monthly concert series live-streamed from Zimbabwe that supports over 25 musicians and tech staff;
Partnered with and supported organizations teaching traditional music & dance in Zimbabwe: Humwe in Beatrice and Tsoro Arts in Dvizaresekwa, both in Zimbabwe;
Led a group of 15 Americans, including 6 teen musicians, on a 3-week Zimbabwe Culture & Music Immersion Performance Tour to unite our two cultures; and
In spite of the ongoing pandemic, brought Zimbabwean teacher, mentor, and coach Blessing Chimanga TWICE to the Front Range as a visitor for cultural exchange.
Please make a donation at whatever level you are able!