August 25, 2022
It's been a year since I've written, and although COVID is still with us, many are vaccinated and many who have contracted the virus have had only mild cases. Death numbers continue to decrease, and things continue to open up. We at Kutandara are committed to the health of our students and families, and continue to provide increased ventilation, daily disinfection of mallets, and continued monitoring of carbon dioxide levels in Studio Zambezi. Masks are always welcome, but no longer required. Not yet vaccinated? We encourage you to do so, but also do not require vaccination for participation in classes.
Oh, and wash yer hands!
Warmly,
Amy Stewart McIntosh, Hopefully Optimistic!
---
July 31, 2021
Well, that was fun while it lasted!
I do admit, however, after wearing a mask in public for over a year, it did feel a *little* weird to be so, uh, intimate with all of you by showing you my chin. And my braces. Goodness knows, my braces!
I guess the CDC has decided it was a little too intimate, too, with that sneaky delta variant being so easily transmitted (as easy as the chickenpox!), and how even those of us who are vaccinated can still contract the virus, and transmit the virus, and may never even be the wiser since the vaccines are working so well to keep us off of death's door.
In all seriousness, though, we are reinstating our mask policy to make the statement that:
1) we trust our public health officials,
2) we believe in science and the fact that as new data is collected, new recommendations and information are revealed, and
3) that we can protect each other and our communities by making small sacrifices.
So, thanks for understanding. Pull that mask back out!
Warmly,
Amy Stewart McIntosh, a Believer in Science as it Changes and Develops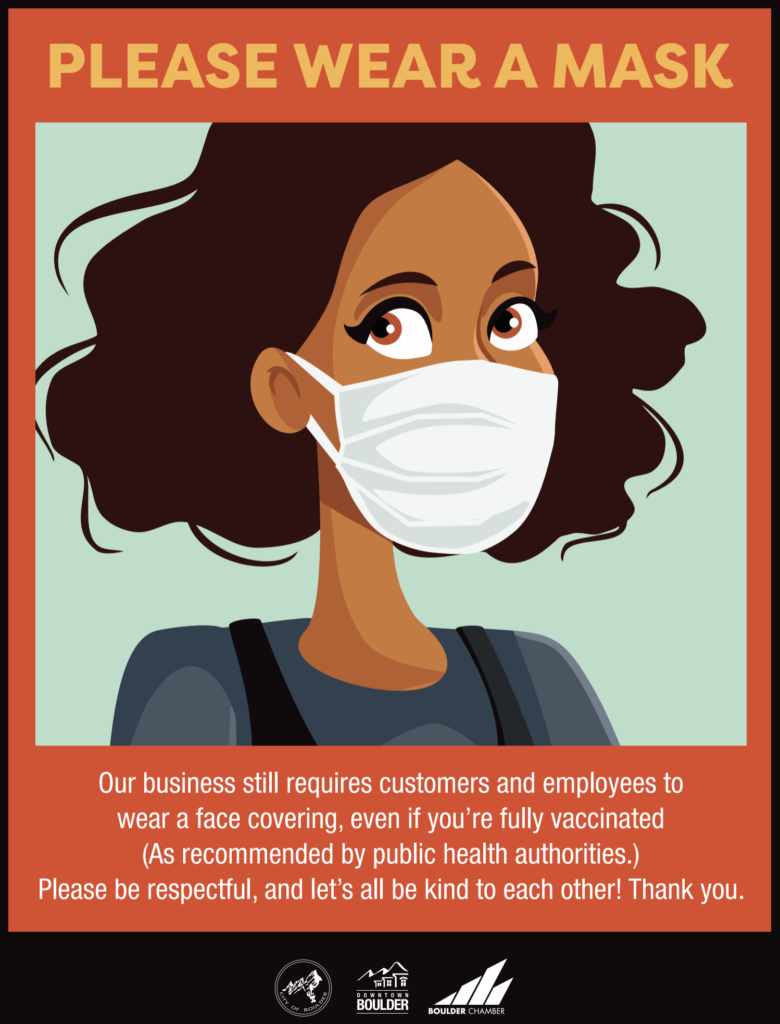 Staff will:
Ensure students are following health and safety guidelines
Disinfect high touch areas
Maintain a 3′ distance from students unless given permission to come closer to correct or demonstrate a part, etc.
Open windows and prop open the front door, and run fans and air purifier to improve air circulation and quality
We respectfully require all students to:
Complete the COVID-19 Health Screening prior to entering the building
Wear a face covering that covers your mouth and nose at all times inside the building
Wash or sanitize hands upon entry and frequently throughout class
Stay at least 3′ apart from anyone not in your household group
Disinfect mallets/sticks when moving to a new instrument (after using)
Stay home if you feel sick
Thank you for helping keep our community safe!
---
June 14, 2021
Well, you've been more than patient, and your patience and diligence have paid off. (Well, getting vaccinated helped, too!) The Boulder County 5-Star Program is now allowing participating organizations to allow those who are fully vaccinated to be mask-free indoors. We will still be following all of our other 5-Star COVID guidelines.
Whew. That announcement couldn't have come at a better time. Zoom fatigue? I've got mask fatigue!
Warmly,
Amy Stewart McIntosh, Who is Still Happy to Wear a Mask in Crowded Public Spaces
---
May 12, 2021
We just completed our eight-week recertification with the Boulder County 5-Star Program, and we have some exciting news to report, as well as some clarifications.
First, we have done and continue to do an excellent job in keeping Kutandara Studios a safe place. We've had ZERO reported cases of COVID-19 in the over 11 months (June 1, 2020-May 12, 2021) that we have been open for in-person classes during the pandemic. Congratulations to all of us!
Second, we are now able to reduce our social distancing to 3 feet to align with other educational institutions. This means that we can safely move all classes into Studio Zambezi so that we can all be together in one room again. We are really looking forward to that!
Third, although science is starting to show that those who are vaccinated may be able to take off their masks indoors with other groups of vaccinated people, in order to remain part of the Boulder County 5-Star Program, masks are required indoors at Kutandara Studios, no matter the vaccination status of those present.
Fourth, we will continue to increase the ventilation of Kutandara Studios with windows open, box fans, and an open door. Please remember to dress appropriately for this precaution. I know I'm wearing my snow pants tonight!
Finally, we have a rather wide range of risk tolerance in our community, and in order to keep everyone feeling safe, Kutandara's 5-Star status is important to us to maintain. Thanks for understanding!
Warmly,
Amy Stewart McIntosh, Seeing the Light at the End of the Tunnel
---
March 8, 2021
Congratulations to us! All of us!
Kutandara is now a 5-Star Certified organization in Boulder County.
The Boulder County 5-Star Certification Program is a voluntary program that encourages organizations to take steps to help slow the spread of COVID-19. The 5-Star certification reassures employees and customers that organizations are adhering to enhanced guidance. Kutandara was awarded its 5-Star Certification on March 8, 2021.
The Colorado Department of Public Health and Environment made the 5-Star Certification Program Available to Boulder County in February 2021. This program encourages the implementation of safety measures beyond what is already required by public health orders and guidelines that will help slow the spread of COVID-19.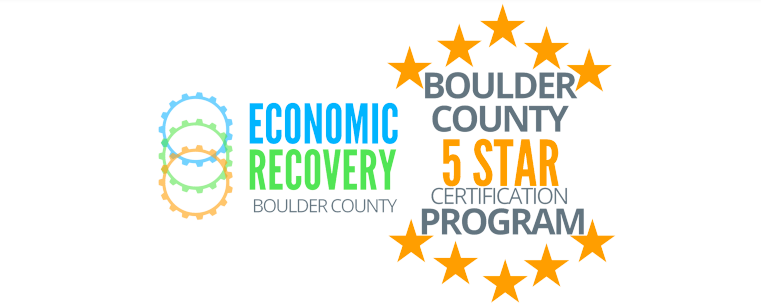 Currently, after staying home, Kutandara is one of the safest places you can be!
Warmly,
Amy Stewart McIntosh, Fingers Crossed – Again!
---
February 17, 2021
Baby, it's cold outside!
We've had very cold weather here in Boulder the last week, and it's forced our hand in developing a cold weather policy (or shall we say "guidance"?) for our in-person classes. We are unwilling to close the door and windows because our COVID-19 safety precautions rely on them being open (for increased airflow and ventilation), but our portable heaters have been working overtime! And, if you are the person on the "2nd soprano" alto marimba by the door, well, I hope you wore your snowsuit!
So, what we've decided is that if the forecasted temperature several hours out from the start of class is projected to be 25F or above, we will offer class in-person as usual. If it is projected to be below 25F, we will host a Zoom-only class.
If we plan to host a Zoom-only class, we will contact you using the email address you've provided 2 hours before our scheduled class time so you can adjust your driving schedule and tech setup needs.
If you hate Zoom, consider just dropping in to say "hi" to stay connected to your group!
Warmly,
Amy Stewart McIntosh, Zoom User Extraordinaire
---
January 11, 2021
The results of our December 2020 COVID-19 Safety Audit are in! We came out in our initial audit with a score of 3.3/5.0, above the average benchmark of 2.7/5.0. Our gap assessment revealed a need for more and better signage, tracking of cleaning and disinfection practices, and a health screening for everyone upon entry to assist if contact tracing is necessary. We have now accomplished nearly everything on the list of major and minor infractions and soon we will be re-evaluated for COVID-19 Safety Compliance Certification! Hooray!
---
May 25, 2020
Today is Memorial Day in the US. We honor and thank those who have given their lives for our country.
Today is also Africa Day. We also honor and thank those who have dedicated their lives to lifting up the beauty of Africa and her peoples.
In April, we broadcast a live, online concert with Blessing Chimanga, and everyone loved it. So, we thought, "why not offer more online concerts?" So, today, we offer the first of many online, live sessions to help lift our collective spirit, continuing sharing the music of Zimbabwe, and support Zimbabwean friends and teachers around the world.
Blessing Chimanga has agreed to be our host and MC for the concert series, and our first featured artist is Taffie Matiure. We hope that you'll tune in on our facebook page and enjoy the music!
Warmly,
Amy Stewart McIntosh, Concert Lover
---
May 13, 2020
We'd like to test an in-person, outdoor, summer studio site at a private farm in Hygiene by inviting current students, class-by-class, to join us in a culminating Spring Session Jam in late May. (Of course, we know this can't take the place of our Annual Student Festival and Bake Sale, but it will have to do for now!)
We will limit participation to class members only, physically distance the instruments from one another at a minimum of 6', provide hand sanitizer, and disinfect the mallets between each class. We hope you can join us! Look for a survey about this opportunity very soon.
Warmly,
Amy Stewart McIntosh, with Her Fingers Crossed
---
May 7, 2020
I don't know about you, but I'm over the top with unique URLs, Zoom Meeting IDs, and Zoom passwords! We are going to make it simple and teach ALL of the Kutandara classes out of Kutandara Studio's personal meeting room (with no password, only a waiting room).
So for EVERY class EVERY time going forward, please use Meeting ID 303-443-2969 (phone number for Kutandara so it should be easier to keep track of). It will pop you into a waiting room where the instructor can let you into the class. Make sure your device/Zoom account is named something recognizable to your teacher so that they know to let you in. (We most likely won't let in folks in the waiting room who are named "iPad2" or "Samsung8" to protect the folks in the class from Zoom-bombing.)
I hope this simplifies these last few weeks of the Spring session with any Zoom code confusion you may have experienced!
We also want to encourage more playing, learning, and jamming "together" during these last few weeks of our Spring session. To that end, you are invited to join any other like-leveled class and participate. Because of the overlap in level and the #kutandaraplaysmarimba song-of-the-month project, there's actually quite a lot we can "get" from being together by visiting each other's classes. Feel free to ask your instructor what other classes might be right for you.
Warmly,
Amy Stewart McIntosh, Overloaded on Zoom!
---
May 1, 2020
Our May Song-of-the-Month is Wandibaya Moyo. Instructors will be introducing parts in Zoom classes over the next few weeks. Stay tuned for the youtube videos to learn on your own, too! In the meantime, give a listen on youtube.
If we have success with the April Acapella App, let's try it with Wandibaya Moyo a little later in the month. Randy is also doing a larger Wandibaya Moyo Video collaboration project, so let us know if you'd like to be part of either of those collaborations, too.
Have fun and stay safe,
Amy Stewart McIntosh, Acapella Apper
---
May 1, 2020
Well, we've been at this Zoom thing for six weeks now! Wow! Thank you for your patience and goodwill during this time.
It was a steep learning curve for both our students and our instructors, but I think now we're finally settling into a groove together in each of our classes.
We would love to hear from you, and hope you'll let us know what your experience has been, and how we can make it better. We will continue to host our classes via zoom only through at least the end of the spring session/end of May. (Summer outdoor classes may be a possibility as described below.)
We have fallen out of the habit of offering regular classes during the summer, but since we will have all missed 2-1/2 months of face-to-face music-making, we're toying with the idea of creating a makeshift outdoor "studio" (on private land near Boulder if the COVID19 restrictions loosen after May 8th) so that we have enough space for physical distancing and airflow (neither of which are possible at our current Western Avenue studio).
We will be considering shade, parking, toilet and handwashing facilities, mallet disinfection capabilities, and Internet signal strength (so that people who wish to participate remotely still can). It's very likely that masks would be required to participate in person. And, of course, we will be following the recommendations on physical distancing and other COVID-19 precautions from the Center for Disease Control, Colorado State Department of Public Health and the Environment, and the Boulder County Health Department.
We will be sending a survey to current students soon to help collect your feedback about this "summer outdoor studio" idea.
In the meantime, please drop us an email about your Zoom class experience in March and April, and let us know how we can make it "the best it can be" for the remainder of our spring session through May.
Warmly,
Amy McIntosh, Big Dreamer
---
April 15, 2020
Well, it's tax day, but I've barely started on mine.
How about you?
I've mostly been watching the Marvel Universe's Avenger series. We are up to 'Dr. Strange' (movie 14 of 23 in release date order – if you don't count Black Widow which come out in November of this year.) It's a good long project that is taking up some of our unscheduled time on these long days and weeks of quarantine. But, just one movie a day – honest!
In our "studio" – which is our home office/guest room/craft room/ music room – I've been making masks for us and our neighbors, as well as shipping them to my family in Michigan, especially to my younger brother who is a respiratory therapist at two local hospitals in Muskegon, Michigan.
I've also been trying my hand at making my own youtube videos for students. I recorded a series of "So You Want to Play Marimba" videos for students who we've never met "in person" and who are experiencing marimba for the first time on Zoom. (I know, I forgot to mention "D" – I mean, really, how long have I been playing? Of course I know the names of the notes. Just don't quiz me on video without a run-through – I'm kind of a one-take gal.)
I've also started learning how to edit videos in iMovie thanks to the very patient and generous tutoring of our friend Chris Torrence. Chris took all the footage and edited the first series of #kutandaraplaysmarimba: "Shamwari." I can now add title and credit slides, separate audio from video, fade audio in and out, slice clips using the blade tool, and add transitions. Not bad for the first tutoring session!
What are you learning these days?
Warmly,
Amy McIntosh, Tax Prep Avoider and Marvel Universe Fanatic
---
April 3, 2020
We've just launched our new project #kutandaraplaysmarimba, modeled after the City of Loveland's library program "Loveland Loves to Read." In Loveland, Colorado, the whole city reads one book each month together, and the library offers opportunities for people to gather in discussion…and makes sure there enough copies for everyone who wants to participate to have a copy for the month.
We wanted something to keep us all connected and to allow us to all play together (remotely, of course) by all learning and jamming in the same song during the same period of time…in this case month-by-month.
We'll start teaching the song as part of our on-going classes next week, but wanted something even broader than just our students all learning the same song; we wanted to go global. So, we are using social media to spread the word to invite our friends and teachers from around the globe to learn, teach their own students, and play with us during this global crisis. We know everyone's been hit hard by this pandemic…and we want to give back: to our students, to our teachers, and to the world. In that vein, we are be posting these free marimba lessons "Learn to Play Marimba" via YouTube in a "song-of-the-month" fashion.
April's #kutandaraplaysmarimba Song is 'Shamwari' which Randy McIntosh wrote in 1999. Shamwari means friend, friends, or friendship in the Shona language of Zimbabwe. I know we are feeling the loss of physical connection with friends. Let the month of April 2020 be an opportunity to express gratitude for the friendships in your life.
Warmly,
Amy McIntosh, Newly Appointed YouTube and Zoom Expert
---
March 26, 2020
I've spent the last couple days re-working our summer camps to bring kids content in 1/2-day programs via Zoom, as well as working on video framing, story-boarding, and setting up tripods.
Randy has been holding a few complimentary classes via Zoom even though it is Spring Break to get the bugs worked out on leading group music classes on a platform that doesn't really lend itself to group music-making.
Oh, and I've cleaned the microwave, stovetop, and burner drip pans. Who knew we could be so productive?
I've also cooked up a new remote project for everyone who loves marimba based on the 'Loveland Loves to Read' community book-reading model in which everyone can participate…even remotely! Stay tuned for the announcement in the next week: 'Kutandara Love to Play' #iamkutandara #wearekutandara #20years #kutandarastrong
Warmly,
Amy McIntosh, Problem Solver Extraordinaire
---
March 23, 2020
Well, It's the first day of BVSD Spring Break, but it doesn't feel like it. We were supposed to be doing something else. I bet you were, too.
We checked out our first 2 complimentary marimbas yesterday, and have another 2 set up to check out tomorrow.
We've borrowed a tripod from our friend Chris Torrence, who is helping us edit teaching videos to compliment our Zoom group classes. (I cleaned our office so that if we truly are homebound, you don't have to see our personal clutter in the youtube videos!)
Another two friends, Becky Bragg and Jon Stubbs, are researching platforms that allow people to play music together remotely. (There's this little problem called "lag" or "delay" that make group music-making nearly impossible.) Stay tuned on that note. (Ha!)
I never did get out of my pajamas.
What did you do today? I hope you felt the sun on your cheeks and heard the birds sing. I did.
Warmly,
Amy McIntosh, Eternal Optimist or Nihilist (depending on the moment)
---
March 18, 2020
Things are changing…FAST! We've made the difficult decision to come together by keeping our distance from one another during this time of uncertainty. In order to respond to the spread of COVID-19, Kutandara will be transitioning to remote teaching via Zoom for all existing classes until at least April 15. Our instructional team will use next week (our official Spring Break) to get organized crafting your ideas into lesson plans, solving tech issues, and generally re-working how we gather and to what purpose it can serve us each in this time of physical distancing.
Please join in on the Zoom call for your class and help us make this chapter of our marimba journey together the best it can be for each of you. We need your help now more than ever to figure this out!
Warmly,
Amy McIntosh, Holder of Light and Joy even in the Darkness
---
March 17, 2020
Wow! This has been an interesting time for everyone, hasn't it? Realigning to a new normal has been interesting, challenging, and downright daunting some days.
We are committed at Kutandara to continue to provide a place for people to connect socially and musically in friendship through the music of Zimbabwe… And in the way that works best for you in these times.
This is the week before our official spring break, and we think it is a good time to experiment using video teleconferencing for gathering as a group.
The studio is still open, but we honor whatever choice you have made during this time of physical isolation. We continue to disinfect high touch services daily, including mallets and drumsticks, as well as using and encouraging strict handwashing procedures. We've also spread the marimbas apart…far apart!
Randy and I will participate in classes from Kutandara with anyone else who wants to join us…in person or remotely.
We held our first Zoom class with an adult group last night, and it was fun, awkward, silly, and eye-opening! If you are up for trying to be together by Zoom, we invite you to participate using the link in your email inbox.
One thing to note is that classes will probably look significantly different via Zoom than you are used to them looking. Our default is to play together as a group, which is nearly impossible by videoconferencing. We will experiment with some of that, but we will also be asking you what opportunity this time might provide for us to address other areas of learning in which you are interested. Some areas that we as instructors have already brainstormed are: history of the music, cultural context of the music, technique, music theory, rhythm work, etc.
So, let us know how you plan to participate this week! In person or by zoom? Or not at all?
If you have trouble with Zoom or need tech-support, please reach out! You should plan to set yourself up before class actually begins and test your video and audio. Zoom will walk your through the steps. Here are a few other tips:
1. You're going to want headphones. Bluetooth if possible, but if you have a cord try to run the cord down your back (so it is not in the way of your hands and mallets). You may need a headphone extension. They sell these at Best Buy, and I also have a few I could loan out. Let me know and I'll put one in the mailbox for you.
2. If you have a tenor, use that for the Zoom call. We will take a poll of what instruments you each have in front of you on the Zoom call, and we will try to play in another range in the room. We've noticed that it's hard to distinguish parts from one another if we're all in the same register/range.
3. Make sure you have the softest mallets available so that your instrument is quiet enough in your physical space so that you can hear our instrument/s. The headphones will help with this.
4. In the upper right hand corner of the Zoom screen you can toggle between gallery and speaker view. I prefer gallery view because I can see everyone on the call. Zoom will place a green box around the person who is speaking.
5. Plan to have yourself muted most of the call unless you have a comment or question. A rustling of paper, a doorbell, or even a sneeze can toggle the microphone to you (which is why your default should be mute). You can use the chat feature to type your questions or comments. (The whole group will see what you type.) You can also visually indicate with a wave that you would like to ask a question or make a comment. We will periodically go around the "room" to check in to see people how people are doing.
And BTW, how are you doing?
Warmly,
Amy McIntosh, Herder of Cats and Marimba Players
---
March 12, 2020
We hope you are doing well, and enjoying each other. Now is a time to hold each other close, and stay calm.
We know that a lot of information is swirling around, and we want you to stay healthy and do what feels right.We also want you to know we are committed to the practices we've recently put in place to help keep Kutandara a safe gathering place:
While we've always requested folks wash your hands before class, now we highly recommend it…you might say we insist on it! We also recommend washing your hands before you leave. We've stocked up on hand soap and paper towels to make this easy to do. (Paper towels are compostable…yay!)
We've also stocked up on hand sanitizer. Feel free to sanitize your hands throughout class, as needed.
We are submerging drumsticks and marimba mallets in a bleach solution each night after classes. To ensure you have a disinfected pair, grab yours from the "clean" pile on the counter when you walk in. Keep them with you throughout class, and place them in the "dirty" basket when class is over.
Teachers are disinfecting hi-touch areas (door handles, light switches, kitchen counters, coffee tables, futon arms, sink handles, toilet handles, etc.) each day before and after classes with hospital grade bleach wipes.
We have spread out our instruments to allow for social distancing in the classroom should you feel comfortable attending classes. Please continue to attend classes if it feels right for you to do so!
We know that BVSD has announced cancellation of after school activities March 13-April 6 to help keep our communities safe. Starting next week, each of our classes will have the opportunity for students to participate remotely using technology. Stay tuned for details regarding your specific class.
If you do not have a marimba at home, but would like one, we are making rental marimbas available free of charge for the remainder of this semester to students who wish to participate remotely.
We will reassess the appropriateness of gathering in person after spring break (March 22-28).
Some things to think about:
We gather at Kutandara generally in groups of less than 10 people.
Viruses can be contagious and infectious, but so can fear.
Warm words, calm energy, and a smile from a friendly face can also be infectious!
We all need to make our own choices, and respect other's choices: no judgement about students who continue to come to class, but no judgement, either, of students who are following every suggestion to the letter.
At Kutandara, we aim to provide a range of choices so that our students and families can choose to stay connected to one another, whatever that may look like for them.
You can expect a supportive, helpful energy from Kutandara teachers as we all navigate our way through this time.
We will provide updates as they are needed, and in the meantime we will be at the studio with a warm smile, disinfected mallets, and clean hands! (But if we feel sick, we'll let you know that we are staying home!)

Warmly,
Amy McIntosh, Chief Cook and Mallet Disinfector
---
March 10, 2020
I wanted to let you know that while facilitating a healthy gathering space has always been one of our top priorities, we've recently made a few improvements to help keep Kutandara a healthy place to gather and make music.
While we've always requested folks wash their hands before class, now we'll highly recommend it…you might say insist on it! We also recommend washing your hands before you leave. We've stocked up on hand soap and paper towels to make this easy to do. (Paper towels are compostable…yay!)
We've also stocked up on hand sanitizer. Feel free to sanitize your hands throughout class, as needed.
We are also sumberging drumsticks and marimba mallets in a bleach solution each night after classes. To ensure you have a disinfected pair, grab yours from the "clean" pile on the counter when you walk in. Keep them with you throughout class, and place them in the "dirty" basket when class is over.
Teachers will also be disinfecting hi-touch areas (door handles, light switch, kitchen counters, coffee tables, futon arms, sink handles, toilet handles, etc.) each day before and after classes with hospital grade clorox wipes.
We hope that these measures make you feel safe to gather in groups at Kutandara. As always, cough and sneeze into your elbow, keep your hands away from your face, and stay home if you feel sick.
We have a generous make up policy if you miss classes. Feel free to ask me how to make up any missed classes.
Warmly,
Amy McIntosh, Executive Director